Poster Session: Instruction for Speakers
| | Mounting | Viewing | Discussion | Removal |
| --- | --- | --- | --- | --- |
| Friday, May 18 | 13:30 – 15:00 | 15:00 – 18:30 | 18:40 – 19:10 | - |
| Saturday, May 19 | - | 9:00 – 15:00 | - | 15:00 – 16:00 |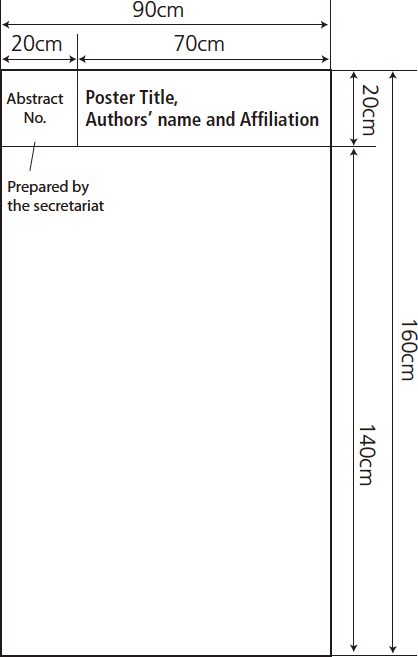 Please prepare presentation materials (posters) in English.

A red ribbon for the presenters and pins for placing the posters are attached on the panel.

The poster discussion will be held by free discussion style. Chairpersons are not assigned for the poster discussion.

Speakers are requested to be in front of the poster panels no later than 5 min. prior to the poster discussion starts.

Please check the Poster Session Area on this program to find the location of your assigned poster board. Presenters are requested to mount their posters on the assigned board.

Poster panels are 160 cm high x 90 cm wide. Please refer to the diagram, and use large sized characters for easy reading. 20 cm high x 70 cm wide of the upper part of the panel will be used for labeling your Poster Title, Affiliation, and the authors' names, which should be prepared by presenters.

Any posters remaining on the panels after the removal time will be discarded by the secretariat.